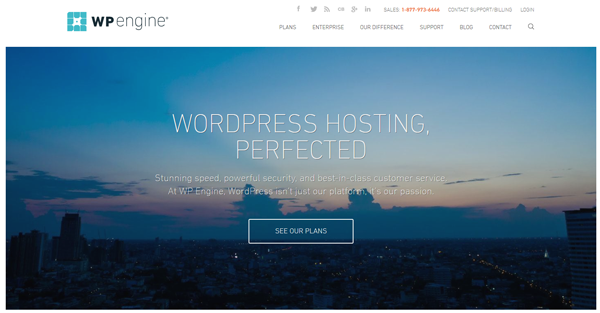 WP Engine specializes in managed WordPress hosting. And because WordPress is all they do, their infrastructure is specifically optimized for WordPress sites. Their customer support staff is comprised entirely of WordPress experts. WP Engine is ideal for enterprise WordPress situations. And, WordPress developers and consultants can utilize features such as transferable installs and billing transfer to streamline their work. For fully managed WordPress hosting, WP Engine is considered the industry standard by many.
Business Started:
2013
Data Center Locations:
United Stated
United Kingdom
Japan
Web Hosting Plans:
Personal
Professional
Business
Premium
Enterprise Grade
Prices:
$29 mo. to $249 mo.
Key Features:
Staging
Automated and Snapshot Backups
Transferable Installs
WPE SSL
24/7 Expert Support
GeoIP Enabled
60 Day Money Back Guarantee
Rating:






(1 votes, average: 5.00 out of 5)


Loading...