It use to be that if you wanted to put up a web site for your business or personal use, you had to hire or be some tech savvy geek to get your hosting and build it. That is definitely not the case anymore! For those who may be technically challenged and or have never had a web site before, you can get a quality web site up and running fast with no programming or web design knowledge. Most of the top website hosting companies offer site building templates and applications. However, some web hosts are now taking it a step further and providing wizard type point and click interfaces that guide you through getting your site up in practically no time at all. Two of the best options I like are from iPage and 1&1 Hosting.

You may have seen the commercials on TV promoting the 1&1 My Website deal. This is one of the fastest ways to get a quality site up running. You just need to answer a few questions and your site is created.

First you specify your industry:


Then, you fill in your company information and choose some design options for you site: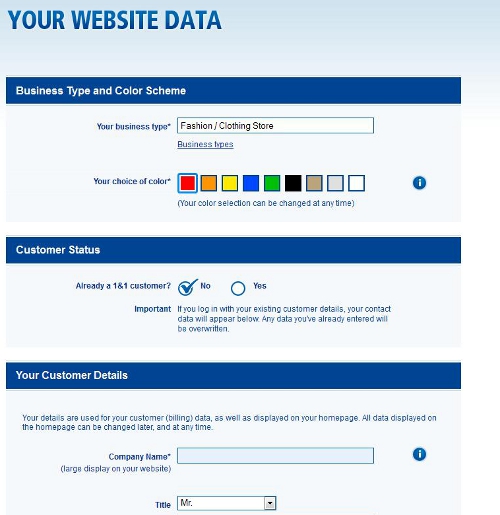 Currently, you can try it free for 30 days. After that, the cost is $9.99 per mo.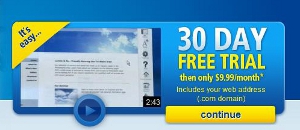 As part of their hosting package, iPage has their beginner friendly website builder that they say can help you get your site live in 10 minutes. I really like the iPage option since it is part of their regular hosting plan which allows you a lot of flexibility and growth opportunities as your web site needs increase.

With iPage, you first specify your domain name. If you already have one, you can have it transferred:


Next, you fill in your contact and billing information: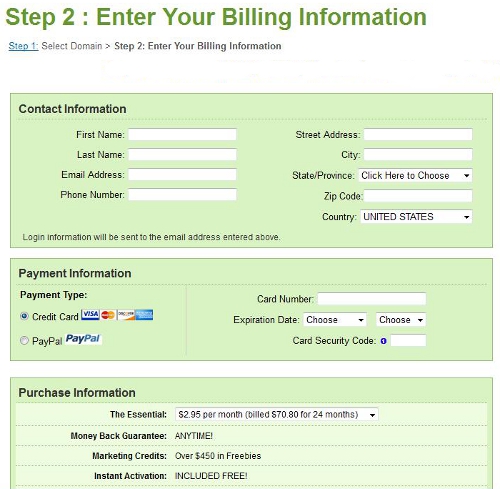 Important: Be sure to scroll down the page to the "Website Essentials" section. These items are actually premium extras that will cost you additional money. You may or may not want any of them. But apparently, iPage auto selects the security and automatic backup options. So, if you don't want these, be sure to deselect them or you'll be billed the additional charges: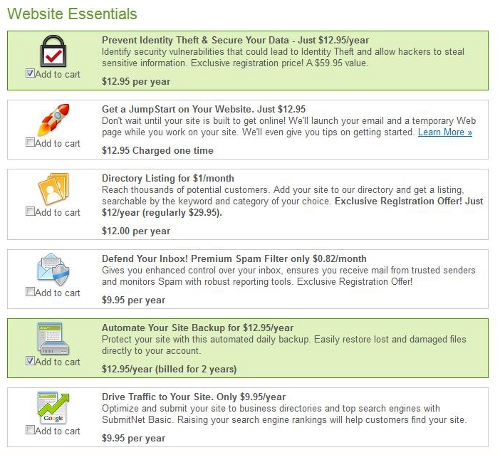 Once your signup is complete, you are directed to the iPage control panel. You can use either the Drag and Drop Builder or the Website Creator to get your site up: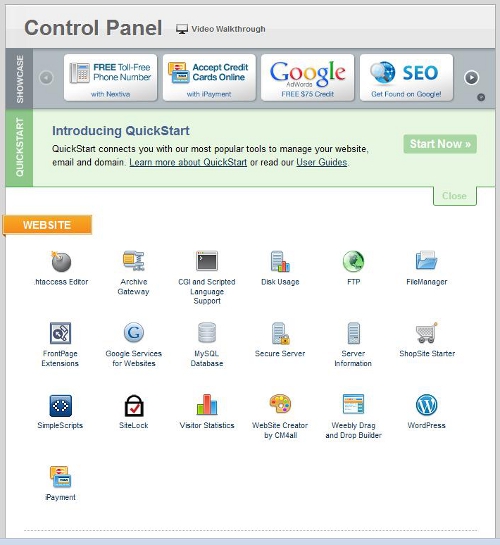 Both the 1&1 and iPage hosting options are great for new website owners. Which should you choose? If you know you're only going to need one site, you hate dealing with the tech side of things, and you want the simplest way to build your site, I'd say go with 1&1. If you feel your online needs will continue to grow, you may need multiple sites down the road, and you want more flexibility in the future, I'd recommend going with iPage.

Be aware that this website automation will likely require a premium upgrade to your hosting package. You may initially get by without the extra cost. But as your site and needs continue to grow, you'll probably want the additional functionality and capacity. So, while your hosting package may cost a little more, it will still be cheaper than hiring some geek to set up and build everything for you. In any case, you'll get a quality website that doesn't require you to be a technology wiz. So remember, just say no to the geeks! Now you can get a web site hosted, live, and running all by yourself.