Three of the best web hosting companies around are Hostgator, InMotion, and Bluehost. I personally have used all three and can attest they are top notch. But which one should you chose? Here's a point by point by point comparison of the three to help you decide which web hosting company is the perfect fit for your website needs.

PRICE/PLANS
Hostgator and InMotion both have several different levels of web hosting plans—everything from a basic personal web site to a full scale business site. Prices range from under $4 a month up to just under $14 per month. Bluehost on the other hand, offers one all inclusive plan for $6.95 a month. If price is your main concern, Hostgator may be your best choice. Even if you need more than just a personal web site, they frequently have sales and specials on many of their web hosting plans.

DISKSPACE/BANDWIDTH/DOMAINS
All three companies offer unlimited disk space and bandwidth. InMotion does limit the number of domains you can have attached to an account. So, if you plan on having a bunch of web sites on one account, we'd recommend either Bluehost or Hostgator.

INTERFACE
All three companies utilize the cPanel interface which we prefer. Of all the cPanel interfaces, I like Hostgator's the best. See our article for more information.

GUARANTEES
Hostgator, InMotion, and Bluehost all have a 99.9% uptime guarantee. As for money back guarantees, Hostgator offers a 45 Day guarantee and InMotion has a 90 day guarantee. Bluehost allows you to request your money back at anytime. So, if you want the largest window for requesting money back, consider Bluehost.

SPEED
While both Hostgator and Bluehost offer excellent network speed and performance, if this is your main concern, then InMotion might be the best choice for you. InMotion utilizes their Max Speed Zones for faster website and email processing. For those people in the western half or eastern half of the United States, you can choose the data center located closest to your area. InMotion's Max Speed Zones can also improve your streaming video and audio. If speed is at the top of your list, then InMotion might be the right host for you.

FREEBIES
Hostgator is the winner here easily. While all three hosting companies offer a free domain with your account, Hostgator also gives you many free website building and SEO tools to help build and promote your site. They also offer free transferring to get your domain, website, MySQL, and scripts to your new Hostgator account. And, Hostgator will give you $100 in free Google Adwords credit. While Bluehost also gives you some extras when you join up, Hostgator is the winner in this category.

MISC.
There are of course many other categories on which to compare web hosting companies. See our accompanying chart below for more detailed information. However, please note that any significant categories not specifically mentioned in this article are the result of all three companies being relatively equal in that area.

SUMMARY
Hostgator, InMotion, and Bluehost are three of the very best web hosting companies around. If you're trying to decide which one is best for you, consider the above information as a guide in selecting just the right hosting for your site.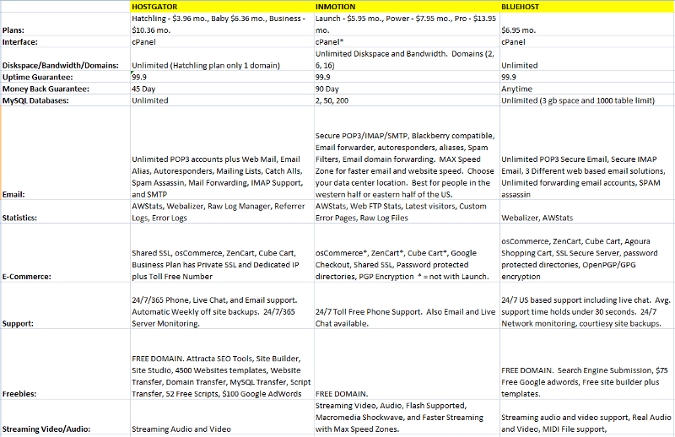 UPDATE: June 2012
Recently, the quality of Hostgator's customer support seems to be in decline. This may or may not be a temporary situation. I'd suggest you check out InMotion, Bluehost, or iPage as your first choices.