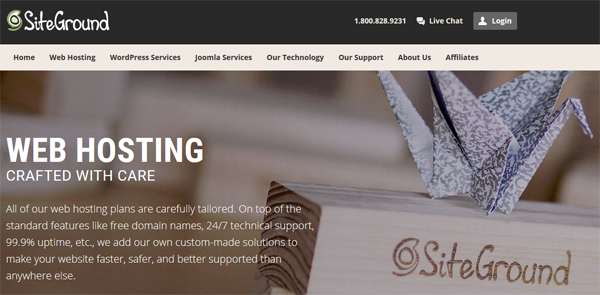 SiteGround specializes in WordPress, Joomla, and Drupal hosting as well as Cloud and Dedicated hosting. They are particularly noteworthy for their managed WordPress hosting plans, which provide automatic updates, data backup, and staging–at a lower cost than other managed hosting plans. SiteGround's SuperCacher technology provides faster page loading times, while their HackAlert Monitoring System provides added protection against malware attacks.
Business Started:
2004
Data Center Locations:
Chicago, IL
London, UK
Singapore
Amsterdam
Web Hosting Plans:
Shared Hosting
WordPress Hosting
Joomla Hosting
Drupal Hosting
Cloud Hosting
Dedicated Hosting
Prices:
$3.95/mo. To $229.00/mo.
Key Features:
Free Domain Name
Free Website Builder
cPanel & SSH Access
Free Setup & Transfer
24/7 Technical Support
Free Daily Backup
30 Days Money Back Guarantee
Unlimited Traffic, Emails, DBs
Free CloudFlare CDN
Rating:






(1 votes, average: 5.00 out of 5)


Loading...